EMC VNX5600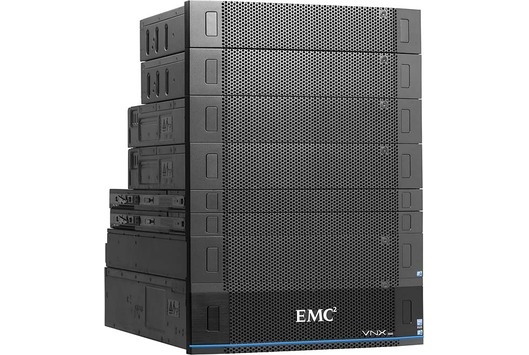 The next-generation unified storage platform delivers industry-leading innovation and enterprise capabilities for file, block, and object storage in a scalable, easy-to-use solution.  The VNX5600 combines powerful and flexible hardware with advanced efficiency, management, and protection making it ideal for mixed workloads in physical or virtualized environments.
VNX 5600 Key features:

Powerful: Flash-optimized hybrid design with MCx (multicore optimization) delivers 4 times more transactions than previous generation systems.
Efficient: Combining optimization features like deduplication and compression with FAST VP (Fully Automated Storage Tiering for Virtual Pools) delivers compounded efficiencies that can significantly reduce the data footprint and system cost.
Protected: Data protection software provides the right protection for every application need.
Simple: Integration with VMware and Microsoft Server 2012 Hyper-V provides easy storage provisioning for virtualization administrators. Unisphere Remote improves management productivity by allowing management of thousands of systems from a single console.
VNX5600 Specifications
Solution For
Consolidation
Databases
Virtualization
Product Series
VNX
Product Type
Storage System
List Price Range 
Price Not Published
Max Raw Capacity
1500.0   TB
Protocol
FC
FCoE
NFS
CIFS
iSCSI
Storage Type
Unified
SAN
NAS
Capacity Optimization
Thin Provisioning
Block Deduplication
Block Compression
File-Level Deduplication and Compression
Performance 
MCx
FAST VP
FAST Cache
Management
EMC Unisphere
Virtualization Support
VMware vSphere
VMware Horizon View
Microsoft Hyper-V
Citrix XenDesktop
Drive Type
Flash
SAS
NL-SAS
Array Enclosure
3U Disk Processor Enclosure
Drive Enclosure
2.5″ SAS/Flash (2U), 25 drives
3.5″ SAS/Flash (3U), 15 drives
3.5″ SAS/Flash (4U), 60 drives
Max SAN Hosts
1,024
Min/Max Drives
4/500
Max FAST Cache
2.0 TB
CPU/Memory per Array
2 x Intel Xeon 4-Core 5600/48 GB
RAID
0/1/10/3/5/6
Max Block UltraFlex I/O Modules per Array
10
Max Total Ports per Array
44
2/4/8 Gb/s FC Max Ports per Array
40
1 GBASE-T iSCSI Max Total Ports per Array
16
10 GbE iSCSI Max Total Ports per Array
16
Max FCoE Ports Per Array
20
Control Stations
1 or 2
Max Supported LUNs
1,000 (Pooled)
Max LUN Size
256 TB (Virtual Pool LUN)
Max File System Size
16 TB
Number of File X-Blades
1 or 2
CPU/Memory per X-Blade
Intel Xeon 5600/12 GB
UltraFlex I/O Expansion Modules for Block
4-Port 2/4/8 Gb/s Fibre Channel
4-Port 1 Gb/s (copper) iSCSI
2-Port 10 Gb/s (optical) iSCSI
2-Port 10 GBASE-T (copper) iSCSI
2-Port 10 GbE (optical or twinax) FCoE
UltraFlex I/O Expansion Modules for File
4-Port 1 GBASE-T
4-Port 1 GBASE-T and 1 GbE (optical)
2-Port 10 GbE (optical)
2-Port 10 GBASE-T (copper)