40 Gigabit Ethernet (40GbE)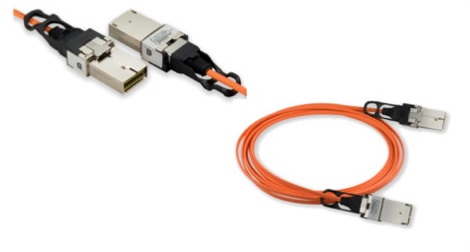 40 Gigabit Ethernet (40GbE) is a standard that enables the transfer of Ethernet frames at speeds of up to 40 gigabits per second (Gbps). The 40GbE standard is intended for local server connectivity; a more robust standard, 100 Gigabit Ethernet (100GbE), is intended for Internet backbones.
In 2007, the IEEE Higher Speed Study Group started work toward 40GbE and 100GbE standards with the goal of increasing available bandwidth while maintaining maximum compatibility with existing interfaces and network management principles. Another goal was to provide for increased working distances to satisfy the requirements of the intended applications. The standard was approved in 2010.
Previous versions of Ethernet could use standard Category 6 (Cat 6) copper wiring and RJ45 connectors, which have been around for decades and are readily deployed. 40 GbE runs on Quad Small Form Factor Pluggable (QSFFP) cabling, a high-density fiber connector with 12 strands of fiber.
According to the task force, 40GbE and 100GbE fulfill the following requirements and objectives:
Preserve existing 802.3 frame format, minimum size, and maximum size.
Support high-bandwidth applications such as video on demand (VoD) and high-performance computing (HPC).
Support high-speed switching, routing, and application functions in data centers.
Exhibit a bit error rate (BER) of 10-12 or better (a maximum of one error bit per 1,000,000,000,000 bits transmitted).
Provide support for optical transport network (OTN).
Provide specifications for operation over single-mode optical fiber, laser optimized multimode optical fiber, copper cables, and backplanes.