Network-Attached Storage (NAS)
Network-attached storage (NAS) is a type of dedicated file storage device that provides local-area network local area network (LAN) nodes with file-based shared storagethrough a standard Ethernet connection.
NAS devices, which typically do not have a keyboard or display, are configured and managed with a browser-based utility program. Each NAS resides on the LAN as an independent network node and has its own IP address.

Netgear is just one of several popular NAS vendors.
An important benefit of NAS is its ability to provide multiple clients on the network with access to the same files. Prior to NAS, enterprises typically had hundreds or even thousands of discrete file servers that had to be separately configured and maintained. Today, when more storage capacity is required, NAS appliances can simply be outfitted with larger disks or clustered together to provide both vertical scalability and horizontal scalability. Many NAS vendors partner with cloud storage providers to provide customers with an extra layer of redundancy for backing up files.
NAS use cases
In the home, NASes are often used for storing and serving multimedia files and for automated backups. Many smart homes rely on NAS to provide centralized storage for smart TVs, security systems and other Internet of Things (IoT) components in the home.
In the enterprise, a NAS array can be used as a backup target for archiving and disaster recovery. If a NAS device has a server mode, it can also function as an email, multimedia, database or print server for a small business. Some higher-end NAS products can hold enough disks to support RAID, a storage technology that turns multiple hard disks into one logical unit in order to provide better performance times, high availability and redundancy.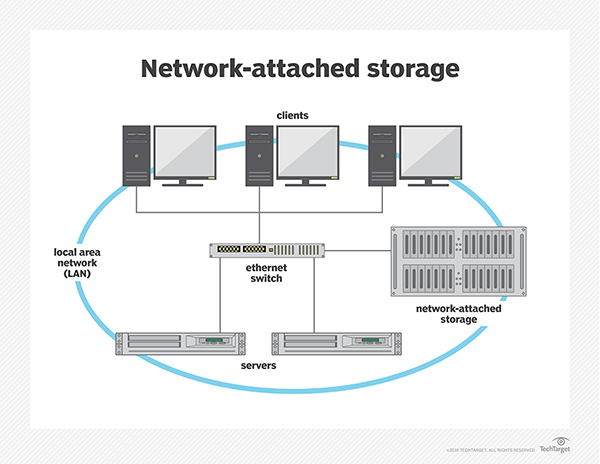 NAS product categories
NAS devices are grouped in three broad categories based on the number of drives, drive support, drive capacity and scalability.
High-end or enterprise NAS: The high end of the market is driven by businesses that need to store huge amounts of files, including virtual machine (VM) images. High-end NAS provides rapid access and NAS clustering capabilities.
Midmarket NAS: This end of the market can accomodate businesses that require several hundred terabytes of data. Midmarket NAS devices cannot be clustered, however, which can create file-system siloes when multiple NAS devices are required.
Low-end or desktop NAS: The low end of the market is aimed at small businesses and home users who require local shared storage. Increasingly, this market is shifting toward a cloud NAS model.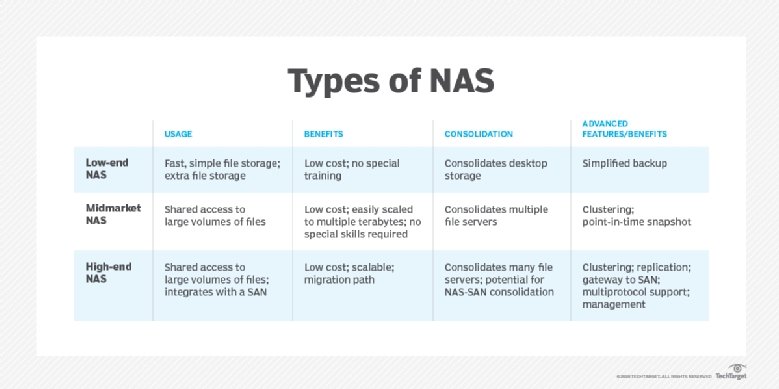 NAS deployments for business
The chart below describes five different ways network-attached storage can be deployed and lists the pros and cons for each approach. Each deployment can easily be managed by a single network manager.