Storage as a Service (SaaS) Definition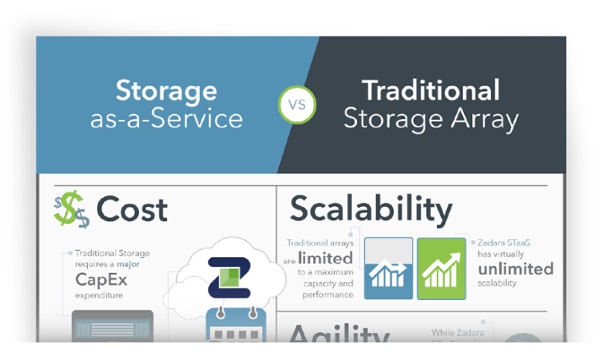 Storage as a Service is a business model in which a large company rents space in their storage infrastructure to a smaller company or individual.
In the enterprise, SaaS vendors are targeting secondary storage applications by promoting SaaS as a convenient way to manage backups. The key advantage to SaaS in the enterprise is in cost savings — in personnel, in hardware and in physical storage space. For instance, instead of maintaining a large tape library and arranging to vault (store) tapes offsite, a network administrator that used SaaS for backups could specify what data on the network should be backed up and how often it should be backed up. His company would sign a service level agreement (SLA) whereby the SaaS provider agreed to rent storage space on a cost-per-gigabyte-stored and cost-per-data-transfer basis and the company's data would be automatically transferred at the specified time over the storage provider's proprietary wide area network (WAN) or the Internet. If the company's data ever became corrupt or got lost, the network administrator could contact the SaaS provider and request a copy of the data.
Storage as a Service is generally seen as a good alternative for a small or mid-sized business that lacks the capital budget and/or technical personnel to implement and maintain their own storage infrastructure. SaaS is also being promoted as a way for all businesses to mitigate risks in disaster recovery, provide long-term retention for records and enhance both business continuity and availability.
SaaS also stands for software as a service.